Discussing Digital Transformation and the Workplace at bidt-Konferenz 2021 (2021-10-13)
Raphael Wimmer participated in a great panel and said some smart things.
At the bidt-Konferenz 2021, Raphael Wimmer participated in the panel "Digitalisierung am Arbeitsplatz – Wie werden aus Veränderungen Verbesserungen?" together with Svenja Breuer (TU München), Dr. Astrid Carolus (Universität Würzburg), and Prof. Dr. Christoph Ostgathe (Universitätsklinikum Erlangen). Host: Prof. Dr. Andreas Boes (bidt / ISF München).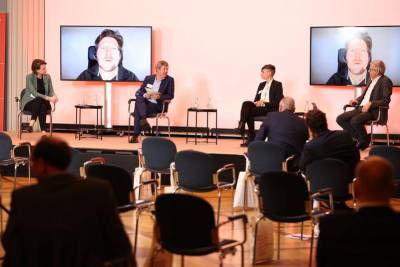 © bidt/storytile/Christoph Mittermüller
Check out the live blog about this panel.
Meist heißt es sehr leicht, wir alle müssten kompetenter werden. Dabei ist das Level hier entscheidend: "Oft funktioniert es nur, solange es ganz einfach zu bedienen ist", so Wimmer. "Aber kaum gibt es ein Problem, wird die Komplexität dahinter deutlich, und dann geht oft nicht mehr viel."