Project: Prototype deployment in the gastronomy room of the Degginger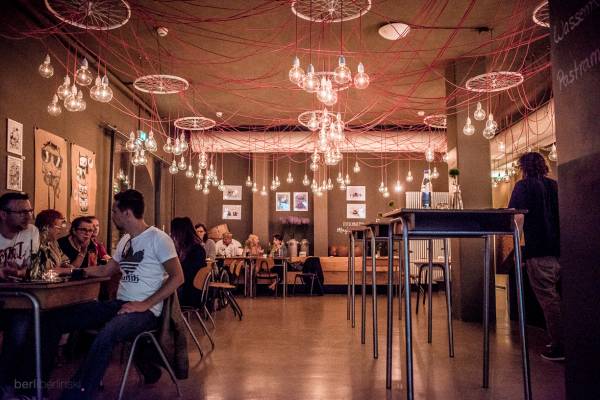 Imagine you go out to eat and an "intelligent" table shows you the menu and informs you about the origin of the products. Or lets you bridge the waiting time for your meal with a little game. Soon, a VIGITIA prototype will turn these and other ideas into reality in the event and gastronomy room.
Status: ongoing
Runtime: 2021-02-23 -
Participants: Vitus Maierhöfer, Sarah Thanner, Marie Laufkötter, Robert Bosek
Keywords: participatory design
Smartphone, smart home, etc. - "smart" objects are often already part of our everyday lives. The VIGITIA research project is currently investigating how computers can support us in our everyday lives in the future and integrate smoothly into them: The joint project - a collaboration between the University of Regensburg, Bauhaus-Universität Weimar and EXTEND3D GmbH (Munich), funded by the German Federal Ministry of Education and Research (BMBF) - is developing a system that can, among other things, project digital tools onto a table or recognize objects on it. The best part: a special table is not even necessary for this. So the normal writing or dining table can be used, which is then supplemented by means of projected augmented reality.
Have we caught your interest? Come by, try it out and actively participate in research. From this we can also draw conclusions about interaction techniques that are important for the further development process.
+++ Due to the COVID-19 pandemic, our deployment is not expected to start until the end of January 2022. As soon as we know more, all info will be here +++.
---
DEGGINGER
Wahlenstrasse 17
in the old town of Regensburg
Google Maps
Media contact:

Sarah Thanner
Junior Research Group "Physical-Digital Affordances"
Chair of Media Informatics
University of Regensburg
sarah1.thanner@ur.de

Dr. Raphael Wimmer
Junior Research Group "Physical-Digital Affordances"
Chair of Media Informatics
University of Regensburg
raphael.wimmer@ur.de