Project: BirdsEye: Capturing top-view images of tabletop usage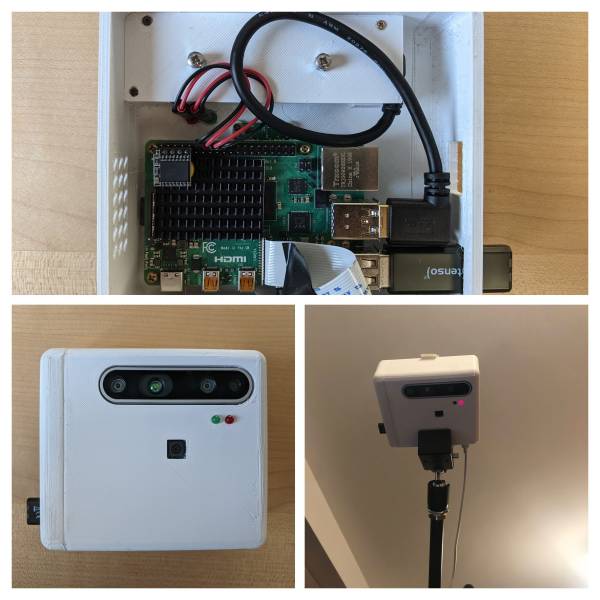 BirdsEye: A hardware and software platform for recording tabletop surfaces in everyday life.
Status: ongoing
Runtime: 2020-05-01 -
Participants: Vitus Maierhöfer, Sarah Thanner, Raphael Wimmer
Keywords: BirdsEye, study, tables, everyday life
With BirdsEye, we have developed a hardware and software platform for recording table surfaces in everyday life.
The VIGITIA project plan is to actively investigate the use of tables in everyday life through several field studies. As it is currently not possible for project staff to visit people in their private homes for data acquisition due to the Covid-19 pandemic, an alternative option had to be sought.
As a result, a small box was developed that can largely automate the process of taking pictures of tables. Inside it are several camera sensors as well as a Raspberry Pi minicomputer. The box can be sent to study participants' homes, for example, by mail. There, it only needs to be placed above a table with the help of a tripod or attached directly to the ceiling.
The BirdsEye system can be connected via secure W-LAN access. There, even laymen can configure the system with the help of a web interface, as well as switch the recording function on and off.
The data protection and privacy of the users are our top priority. When the system is active, it continuously records images of the tabletop. Via a gallery view, study participants can view all data at any time and manually select which data they would like to make available to the VIGITIA project.
We have used the BirdsEye system in several pilot studies and iteratively improved it. In the meantime, we have produced several systems that are to be used in as many households as possible in the course of the coming weeks and months.