Sketchable Interaction
Status: ongoing
Runtime: 2018 -
Participants: Jürgen Hahn, Raphael Wimmer
Keywords: Interaction Techniques, Interaction Design, Computer Vision
Goal
Development of a framework which allows easy access to robust detection, tracking and digitisation of physical documents or devices in combination with the affordances of virtual windows, files etc, so that application developers can build and evaluate interaction techniques.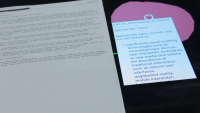 News
We will present a poster and a workshop paper at CHI 2018. (more...)
---
Status
Users are can sketch interactive regions by using their fingers as a brush. They can assign a desired effect to the brush via a context menu triggered by the detection of their hands. The defined region then applies this effect to a colliding object. For example, users want to define a Send-via-Email region, so they choose this effect for their brush via the hand-context-menu. Then, they sketch a region onto the surface and drag the file's icon over the drawn region, in order to send the file to the defined person.
The current prototype supports five types of interaction possibilities:
Seamless Zoom

a file icon gets dragged on such a region and its content is seamlessly rendered readable

Region Delete

delete an undesired region by selecting it with your hand

Send-via-Email

email a physical document by dragging it onto such a region

email a digital file by dragging its icon onto such a region

Storage once a eligible object is dragged onto such a region

digitize a physical document, in order to create a digital twin and visually emphasize their link

print a new physical document based on the file's contents

Conveyor Belt

allow users to automate simple tasks by defining such regions and connecting them with other regions

allow users to temporarily store objects in a looped conveyor belt
Prototype (July 2018)
Background
In order to implement and research possible interaction techniques for physical-digital workflows and workspaces, an application developer friendly framework is required for fast user, hardware or software testing iterations. The framework's first iteration is targeted for the Samsung SUR40 Multi-Touch Table (MTT) using its camera-pixels in order to generate a 960×540 surface image of the otherwise 1080p display. This image is to be evaluated for markers, text, etc. in order to proof interaction technique concepts and potential new input modalities, like digitally stamping / tagging physical documents with a tangible interaction device.
Used Technologies:
Samsung SUR40

Custom Debian Driver by Florian Echtler

OpenCV 3.2.0

ARuco Markers

Custom Arduino-based Tangible Interaction Devices

Input Devices

TUIO2 by Martin Kaltenbrunner
Future Extensions:
Utilise a 4K Projector in order to visualise a workspace combining physical-digital affordances

Utilise a Depth-Camera or Stereo-Camera setup and order to track Paper from above

combine both approaches
Publications
---
News / Blog
We will present a poster and a workshop paper at CHI 2018. (more...)
---